They wished to re-locate their retail hardware store, (located on a busy shopping street in High Wycombe) into a separate building, which was being used as their Trade Counter, with associated ware-housing, and offices.
This was a substantial task, considering the massive range of tools and equipment on offer in their retail store, and somehow condensing the whole operation into a separate building which was already "fully" utilised.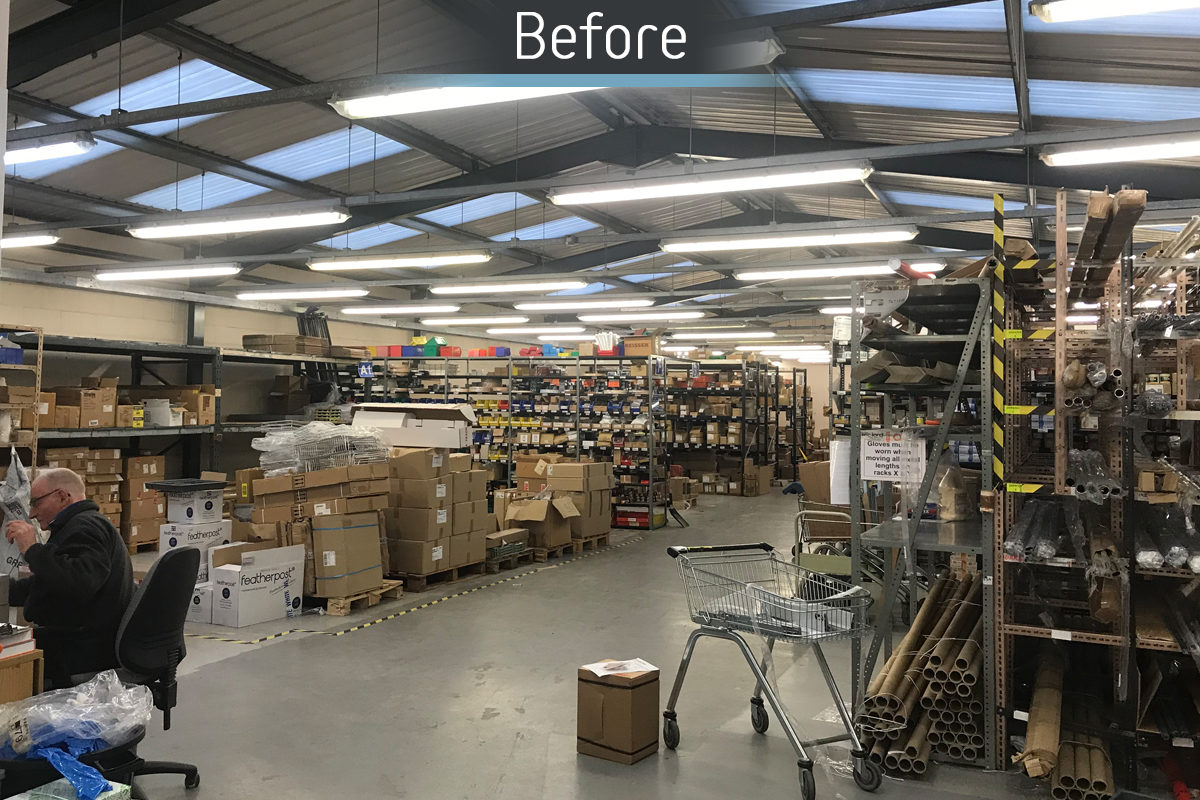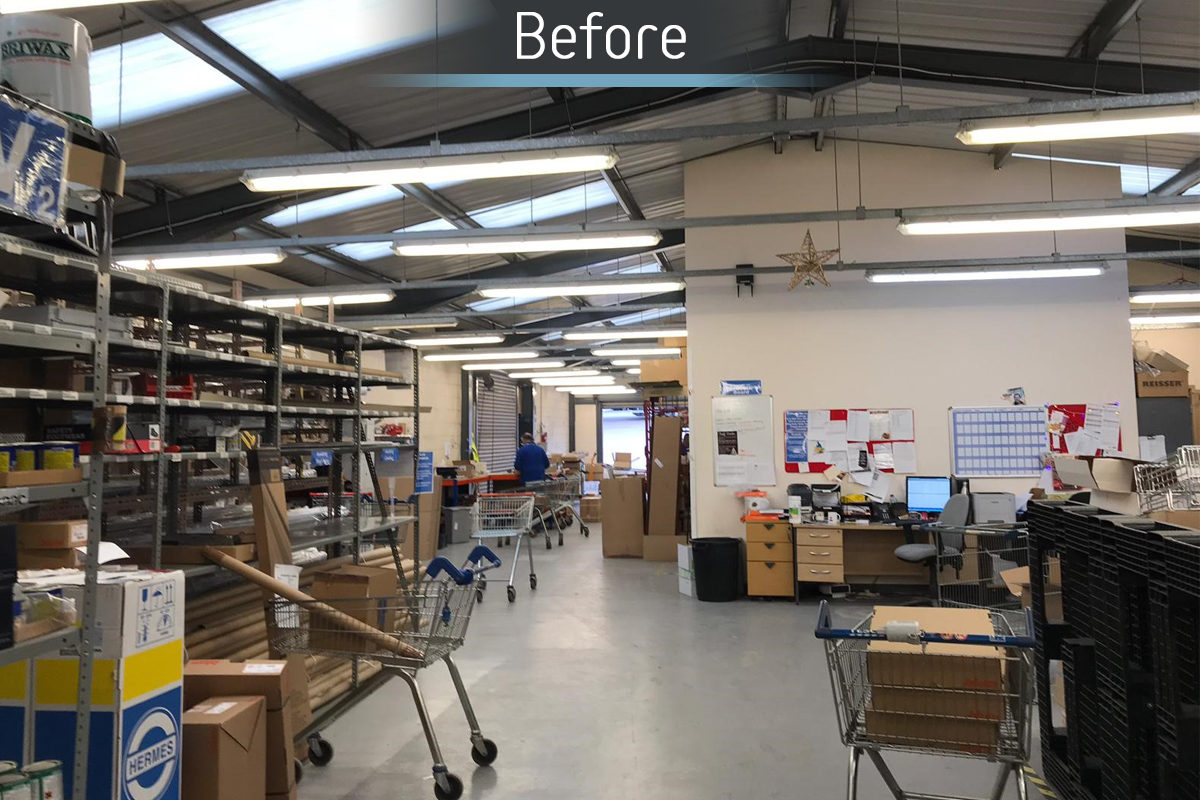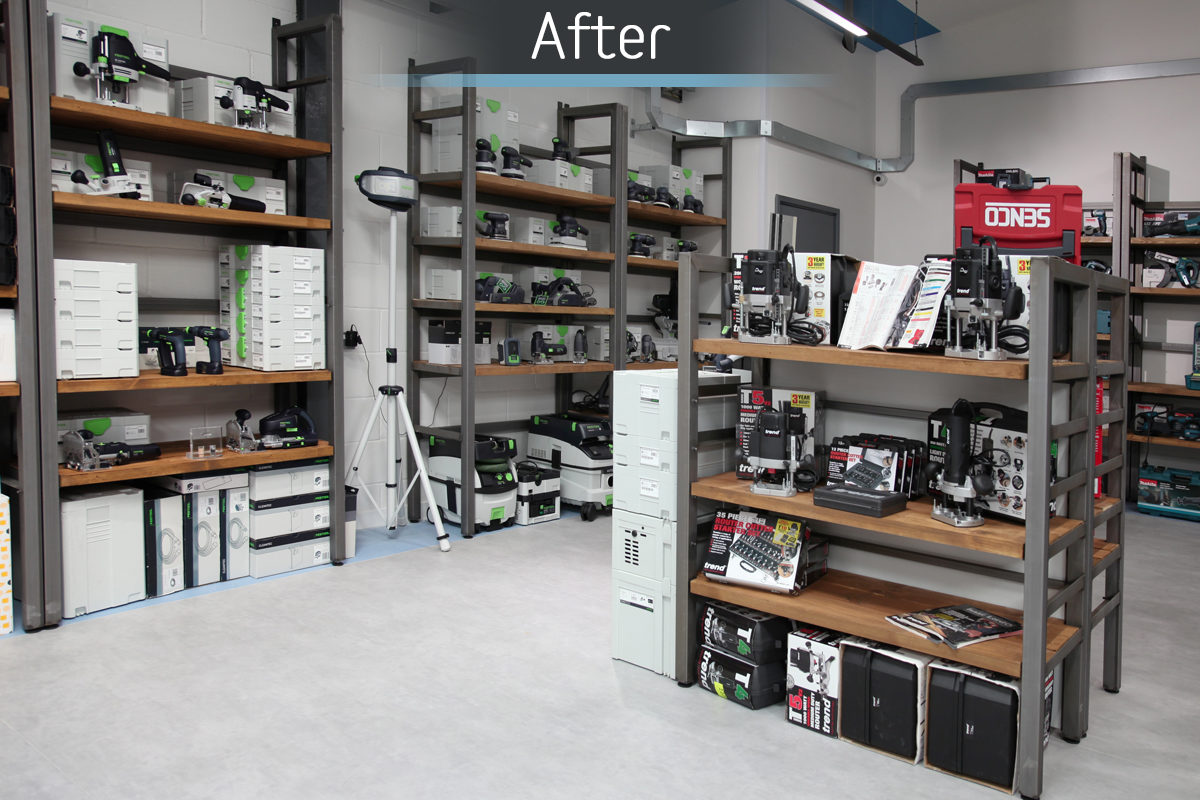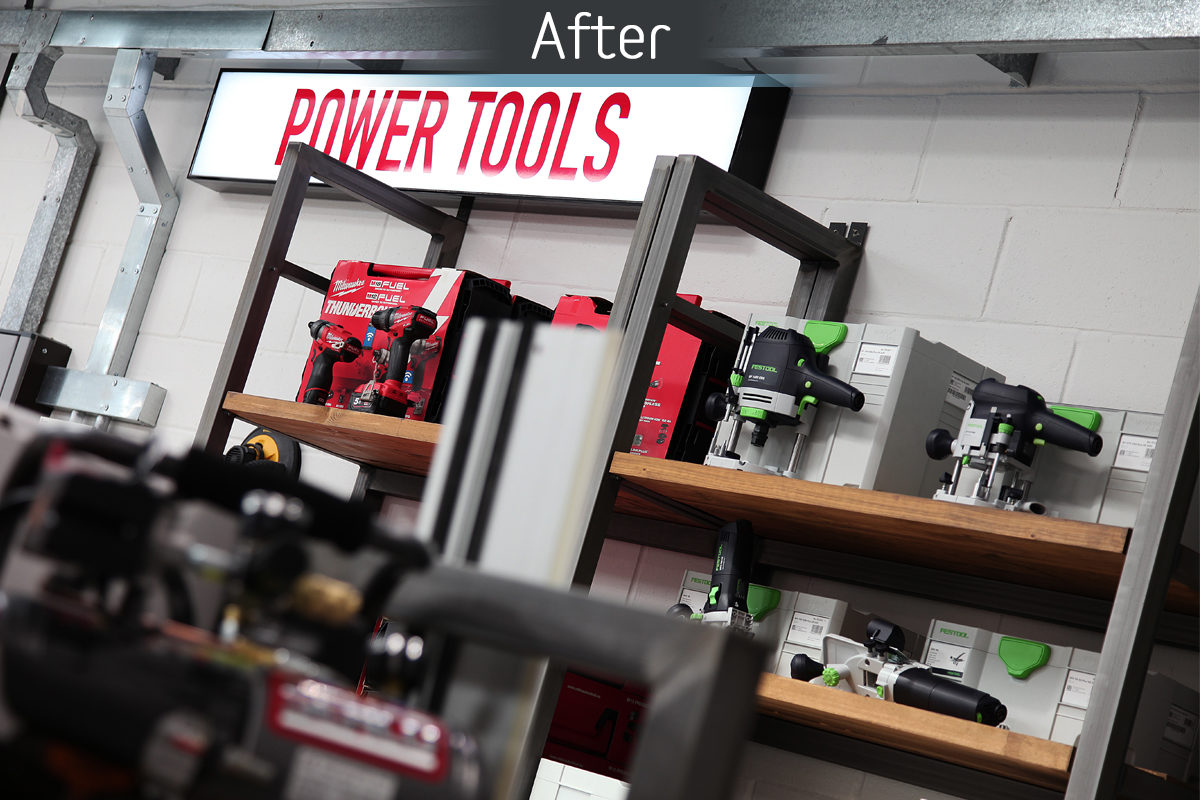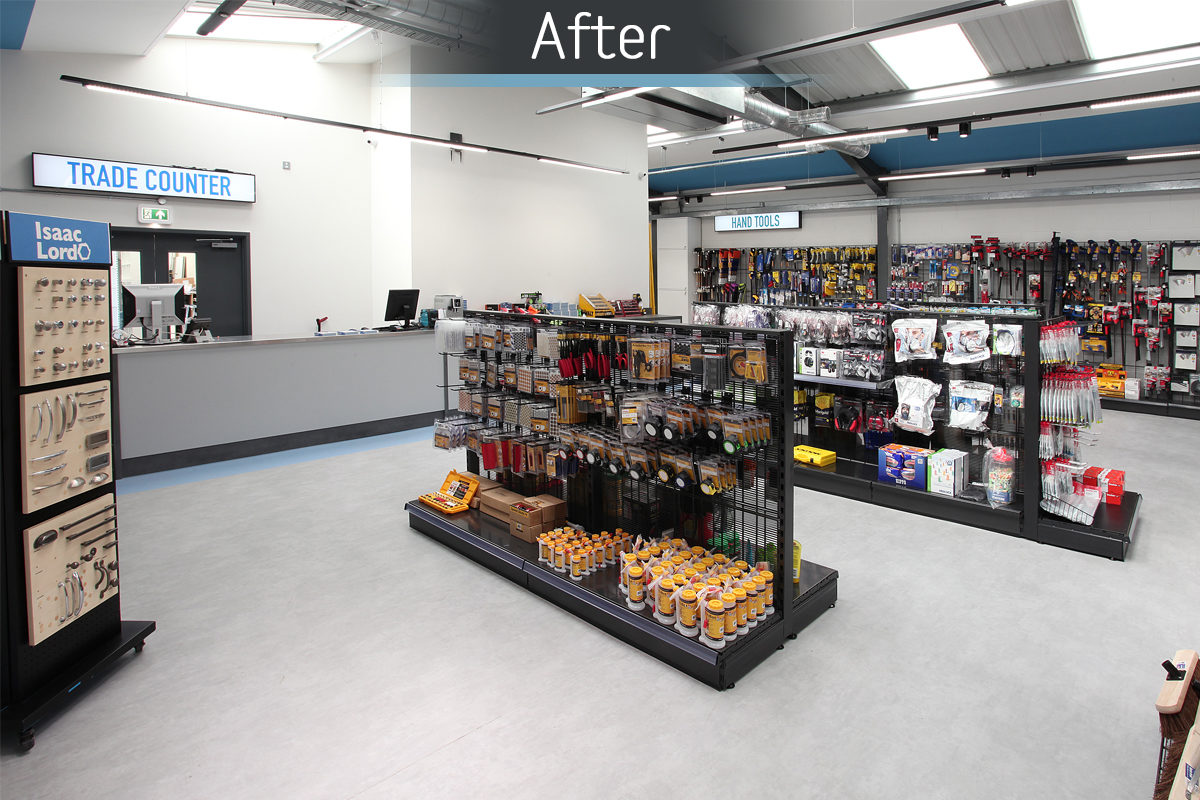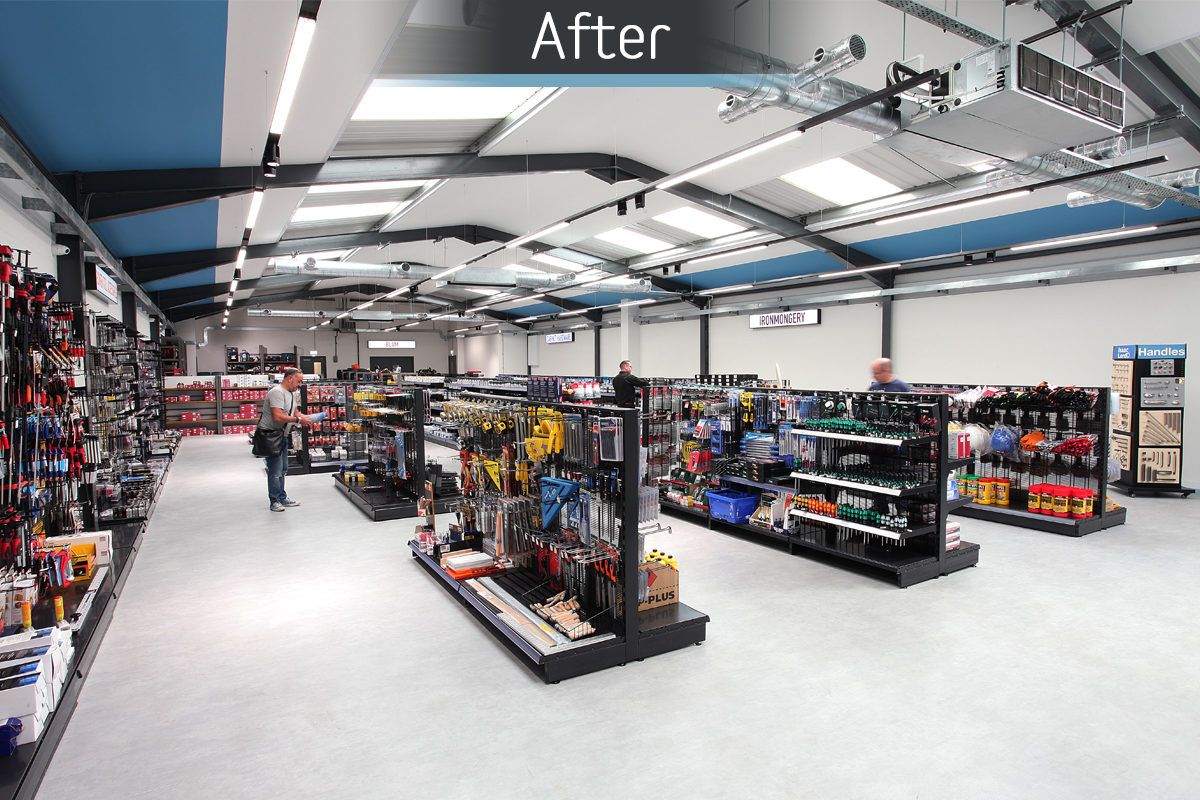 On top of these practical considerations, their ambition was to create a space which would set them apart from other 'builders merchants and hardware stores' and echo their newly developed branding throughout. Mewscraft were able to offer great design and an overall understanding of their business in terms of branding and marketing, to help them realise this ambition. Mewscraft also offered the ability to supply and install all aspects of the project to minimise the disruption to their business during the works.
The space had to be suitable for a variety of customers: trade customers, passers-by and local residents, as well as the DIY Trade. Our task was to wrap up these distinctive purposes into a cohesive store that flowed throughout. But in addition we had to reflect their web-site branding and the overall branding of their business.
Mewscraft inspired the Directors and Management team of Isaac Lord, with a presentation which included a full design proposal, including mood boards, 3D visuals, floor plans, lighting plans, and provisional budget. They gave us the go-ahead having seen a number of alternative companies.
The store's interior design builds on the aesthetic of the Isaac Lord brand and uses solid natural materials to reinforce the Isaac Lord ethos. This ethos goes back 125 years since Isaac Lord was established in High Wycombe as a high quality hardware merchant for the furniture industry.
The design created was inspirational: All the elements, from the steel display units, bespoke reception desk and suspended lights to the steel unit tops and wooden shelves, are simple and unpretentious in design and manufactured using solid natural materials to ensure longevity and sustainability. Yet there is certainly a WOW factor, and functionality is also a major feature which defines the design.
Extensive works were carried out by the Mewscraft team, these included;
Removal of old lighting and furniture
Re-cladding the ceiling, and plastering of it
New suspended ceiling to some areas
New air conditioning
New electrics and lighting throughout
New flooring throughout

Installation of a goods lift from the ground floor to the basement
Structural engineer and installation of steel RSJ's
New partitioning
Dry-lining of walls in some areas
Decoration throughout, including the office area
New internal illuminated signage
New reception and trade counters
New display gondolas
New shop front and automatic doors
New external signage
Building Regulation approval
The careful organisation, planning and cooperation throughout the project ensured that the refurbishment works were carried out on time and to the highest standards. Mewscraft managed everything from the structural work for the lift installation down to the lighting and furniture. The project was completed within the expected budget. The Directors and Management team of Isaac Lord are delighted with their new store and new look, which will help them to compete and be successful in the years ahead.
Works carried out
Removals
Ceiling works
Electrical Works
Lighting
Flooring
Installation of Lift
Structural Works
Partitioning
Decoration
Shopfront including Automatic Doors
Displays and Furniture
Internal and External Signage
Air Conditioning