With black and white being the colours of Abingdon Eye Centre, this is where the Mewscraft design team began. With Abingdon being a family-orientated market town, Mewscraft stayed away from a simple black and white scheme, with the risk it could be too harsh. Instead the team introduced tones of greys and a wood vinyl floor so as to keep the warm and family friendly atmosphere of the practice whilst still reflecting the monochrome branding. It wasn't all greys though – keep an eye out for Mr Merali's colour changing LED lighting!
New LED commercial grade spotlighting, as well as LED backlit dimmable displays and new pendant lights brought the practice to life and added drama to the retail space. Dimmable commercial grade spotlighting in the testing and pre-test room allowed the staff to have complete control over the clinical lighting.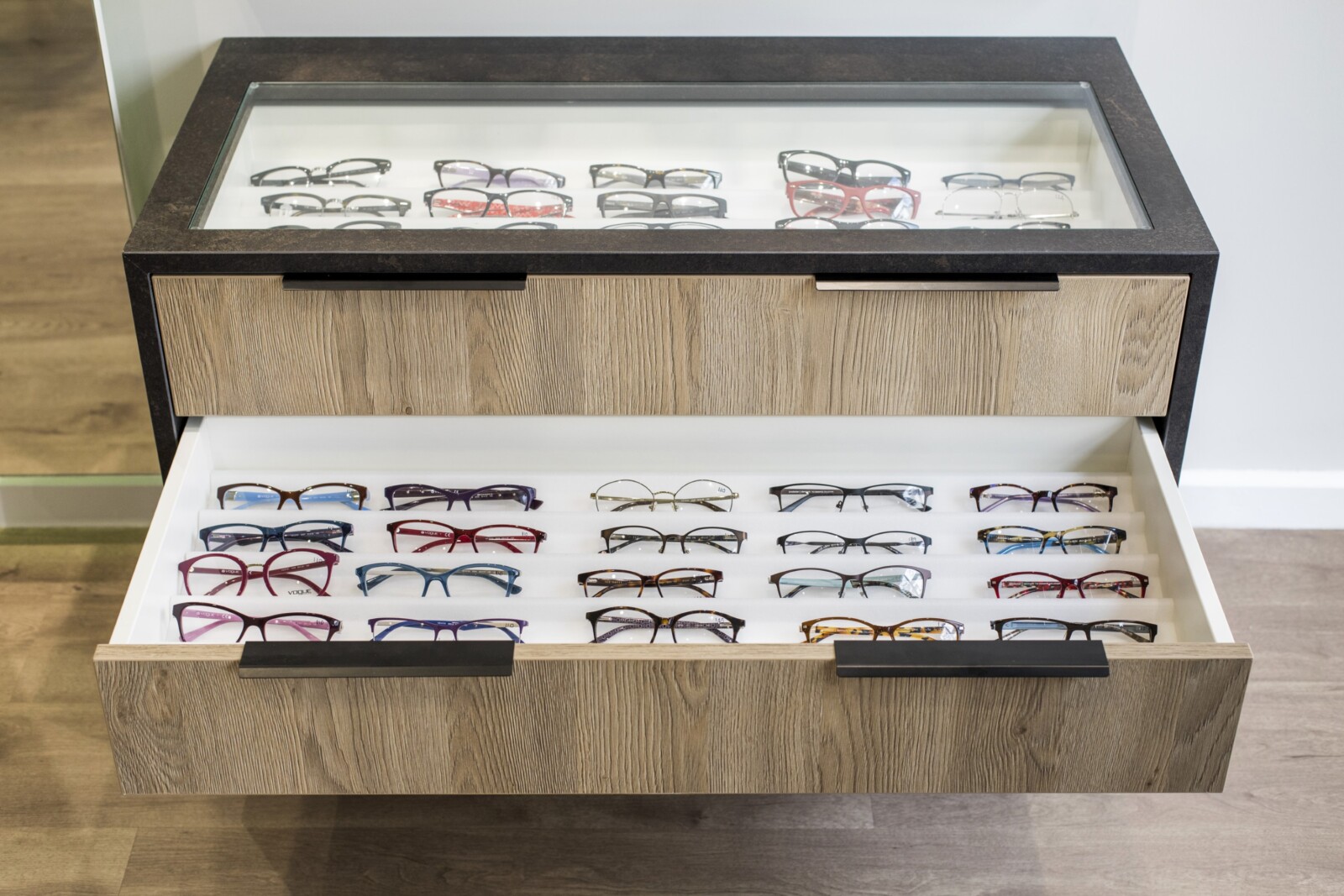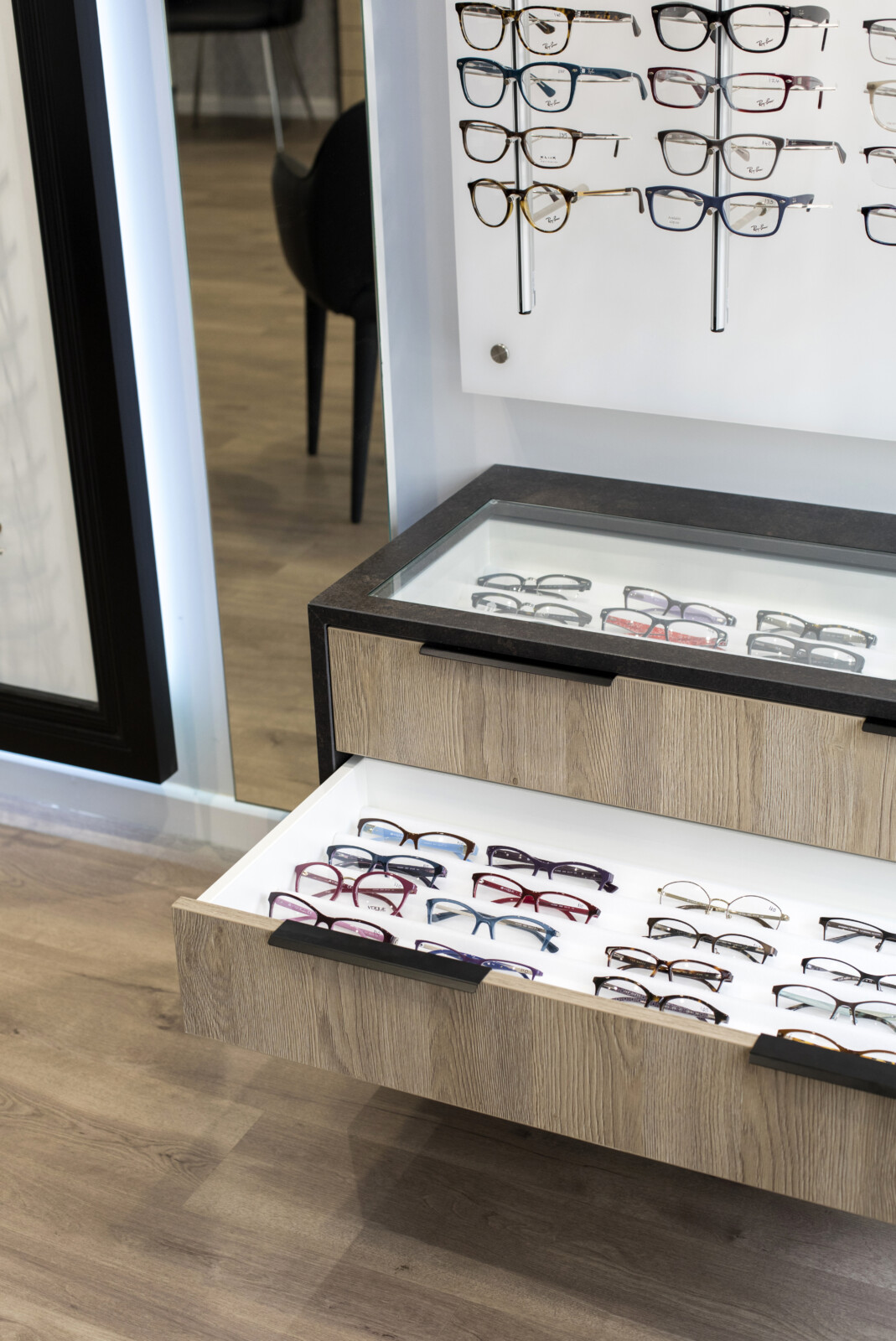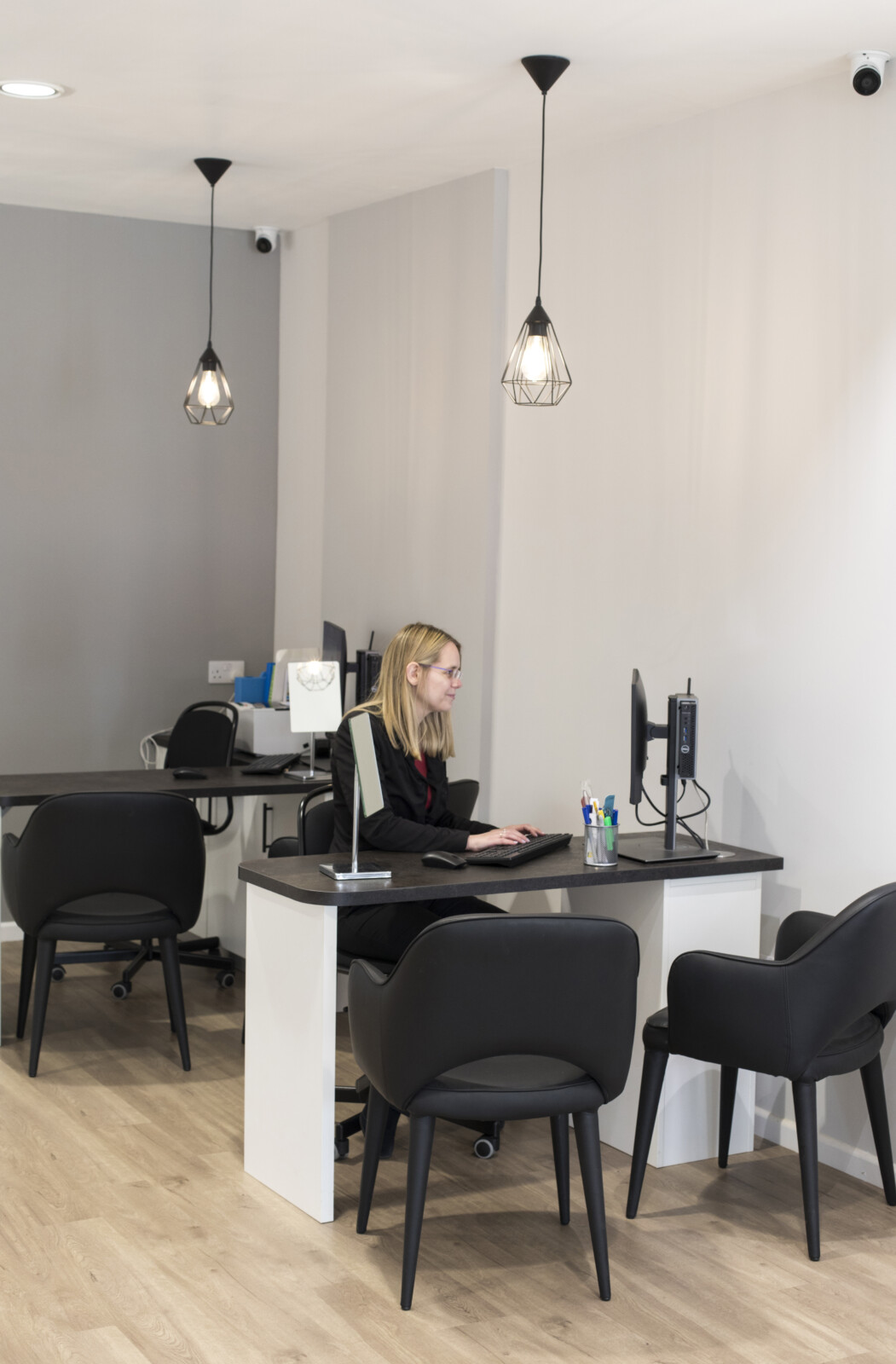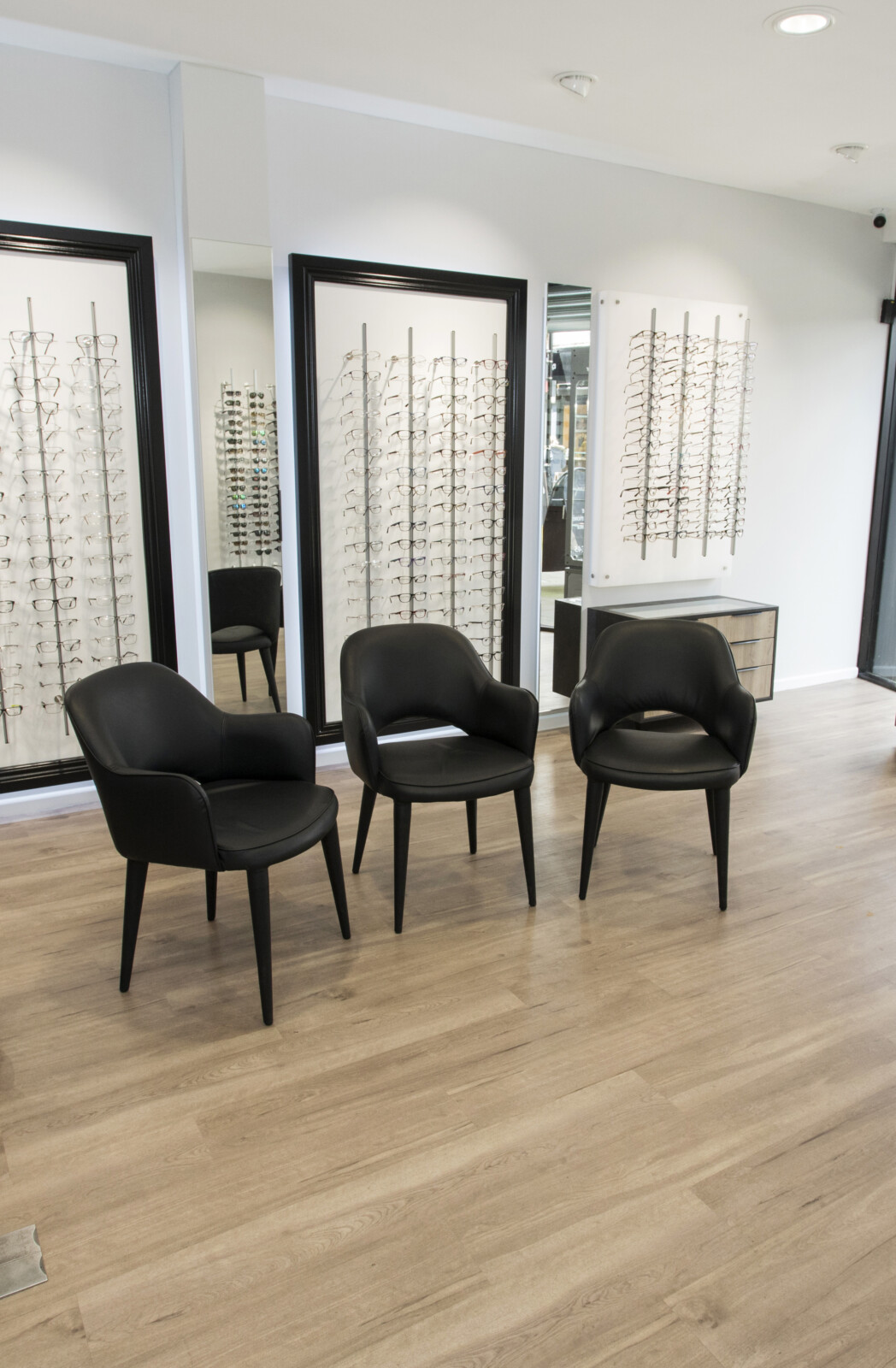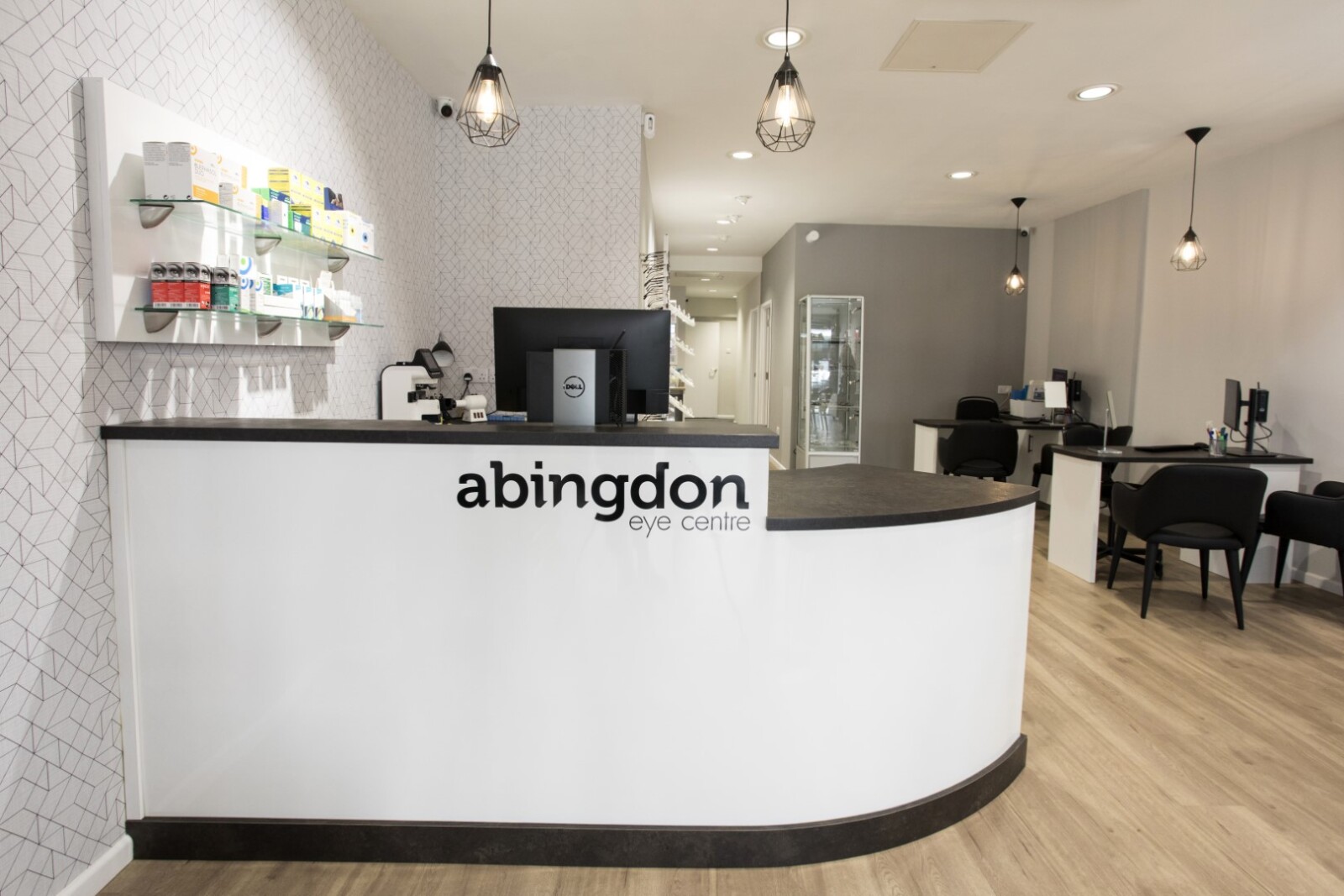 Part of the works involved removing the old curved walls of the previous design and creating a new dedicated pre-test space.
One of Mr Merali's biggest issues with his current practice was the lack of water and air conditioning in his testing room. Mewscraft were able to solve this for him, adding a new basin into both the testing room and new pre-test room, as well as connecting all the basins on the ground floor to one large water heater. Mewscraft also fitted new air conditioning in the testing room and replaced the main retail unit, keeping the staff and patients comfortable all year round.

Of course, what is the use in having a beautiful interior if your exterior does not match? The existing shopfront of the practice was raw aluminium and with a poorly fitting door and dated signage – a makeover was a must. Mewscraft replaced the main entrance door with a new larger door, fitted new illuminated signage reflecting Abingdon Eye Centre's new branding, and lastly, finished it all off with a new spray paint finish to complete the transformation.
We had a wonderful time working alongside Mr Merali and all his staff at Abingdon Eye Centre. It was a joy to help transform the practice both aesthetically and practically – thank you!
Works carried out
Interior Design
Full fit-out
Partitioning
Electrics including CAT 6 data cabling
Lighting
Plumbing
Flooring
Furniture
Displays
Air Conditioning
Project Management
Shopfront works
External Signage