NEC Exhibition Stand for Isaac Lord drives sales
17th October
Isaac Lord Ltd. supplies everything the joiner/kitchen manufacturer needs except the timber itself.  This includes Power Tools and Accessories, Screws, Abrasives, Oils and Waxes, Hinges and Runners and General Ironmongery.  As well as a large retail shop with one of the largest and broadest selection of tools in the country, Isaac Lord supplies nationally with a website featuring over 20,000 products, reps on the road and office based telesales.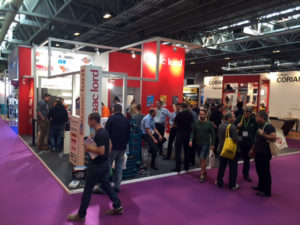 Attracting attention from attendees and other exhibitors
Isaac Lord were a key exhibitor at W16, the primary event for the Joinery & Furniture industry. Taking place every two years it gives people the opportunity to view the very latest in woodworking and joinery machinery, components and materials.
Mewscraft were delighted to design and build a stunning raised 72 m sq. stand for Isaac Lord.  Working closely with the client, Mewscraft created a scheme that not only managed to stand out within a busy exhibition atmosphere, but also had components that could be reused for future exhibitions.
Their huge product range of tools and accessories required a variety of shelving, wall mounted displays and impactful lighting. And, as a main distributor for Blum and Hafele, the stand included a demonstration kitchen area to show off specific drawer runners and fittings.  Also, break out sales area were incorporated, designed to give some privacy whilst carrying out business on the stand.
Branded in the company colours of red and white, the stand drew in hundreds of visitors, generating a large volume of sales and leads during the event.
Andrew Cripwell, Director was extremely pleased with the stand, "W16 has been a great success, both for Isaac Lord Ltd and our partner suppliers which include Blum, Makita, Mirka and Festool. Mewscraft, who designed and built the stand were superb, and took nearly all the stress out of the show build up – which is no mean feat!  
The branding and colour schemes were strong, and in addition to the sales generated during the show, we have acquired hundreds of new customers who should continue to buy from us for many years to come."